Ahoy Sports Fans, it's me El Senor Sportyblog Scribe Touchdown Tommy once again, having Dropped thou proverbial Ball; Butterfingers!
As let's see, what excuse haven't I used lately? Thee Dog Ate My Story? Uhm, that Bright Thingy' in the Sky got's in my Eyes and Made Me, Uhm Shank thou Story to the right; Oh Never Mind!
As I've just spent the past Six Days in a virtual RaceAthon', My own "March Madness," which I just thought of when hearing another of that Lame Arse "It's Kia Madness, Baby!" commercial for a local Kuh-Kuh-Kuh-Kia Dealership…
as "Real" Motor Racing, nee NOT RASSCAR' has begun in earnest. Having partaken the IndyCar season opener at St Pete March 10th. Followed by Super Sebring Sports Car Weekend March 15-16, with the 1,000 miles or 8hrs, whichever comes first FIA World Endurance Championship the day before IMSA's 67th running of the iconic 12 Hours of Sebring.
Whilst thou Nightcap to this three nights in-a-row was taking place Down Under Mates, in Bloody OZ', in Melbourne where Formula 1 was ensconced in the season opening Australian Grand Prix!
Crikeys Mates! Yuhs didn't think I was gonna skip Prattlin' on 'bout some Auto Racing Did Yuhs? But see how that works? As I actually paid miniscule Attenzione to Dick Dudley's uh-Kuh-Kuh-Kia commercial for Kiefer Kia in Oregon, Baby!
Racing Nirvana: 12 Announcers, Four Series, 24 Hours and Six Days…
But back to our regular programming, Eh? As Many Moons ago, Hey, did Y'all S-E-E the latest "Super Moon" occurring on the first Day 'O Spring, March 20th? As the Vernal equinox is on the 20th this year apparently, All Yuhs Weather Hoonds; Hya!
AnyHoo, Wayback when I heard that that incorrigible NFL Kicker Cody Bing-Bing-Bing, Ricochet Rabbit!" Parkey,Parquay? Butter! Was being let go by Duh Bearz', I immediately thought, Oh? Perhaps the Seahawks should snap him up!
Bears Officially Cut Cody Parkey
Since even though I Don't Follow Football very closely anymores', Did somebody say S'Mores? Hya! Nevertheless, I'm still Mad at Seattle for giving Stephen Hooska-Dooska' Hauschka the Boot!
Having opted for Thee Blair Witch Project instead, the Hawks followed up with signing Stan-the-Man Janacowski, or was it Stan Getz? Well, Stan gotz' a pulled muskle' in the Hawks final game last year, leaving Seattle without a Kicker; YOWCH!
Yet it's somewhat Funny, Ha-Ha? That Seattle's now on its third Pro Bowl Kicker in the last three seasons. (
Blair Walsh: 2012, Sebastian Janikowski: 2011 and Jason Myers: 2018)
Whilst Messer Parkey's also a former Pro Bowl selection. So what does that say 'bout the Pro Bowl?
And did I read that right? As think the Seattle Post Intelligencer's article claims that the Seahawks newest Kicker Jason Myers contract is for $15.45m, as in Millions over four years, which is certainly more than Seattle Baulked Over paying Hauschka before he departed to Buffalo!
Seahawks Sign Pro Bowl Kicker Jason Myers to Multi-year Deal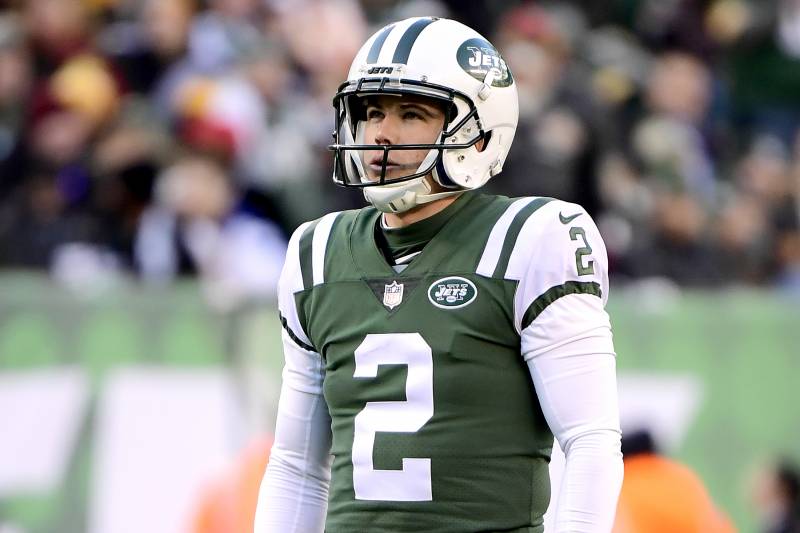 Alas, now that Seattle's apparently solved it's Place Kicker issues, I suppose we can return to making fun of Parkey's misfortunes? Although like the Chicago Brew Pub's Cody Parkey Challenge proved. When 101 contestants missed making a similar distance Field Goal as Parkey's Double Bouncer in the Playoffs…
Just think of how many hundreds, or more likely thousands? Attempt to become Starting National Football League Place Kickers. Which means Parkey can't be all that Bad, being one of only 32 players making the cut! And obviously the NY Jets now have an opening. Then again, Cody could always try the Pat McAfee Show Biz' route, Righto?